News
Needing some inspiration for Christmas gift ideas? You have come to the right place! Click to read more.
It feels almost like yesterday when we celebrated with a big Christmas luncheon - roast ham, baked potatoes, fresh seafood and not to mention the indulgent sweet treats and three layer chocolate trifle. Christmas can be an exciting season but after a few years of gift giving, you may be starting to run out of fresh ideas. To help you with your Christmas shopping, we have put together a list of our most popular personalised gift items that your family and friends will love! These gifts are of practical use yet can be kept as treasured keepsakes for years to come. Click on the photos to view the items in more detail.  
SQUARE CHEESE BOARD. CUSTOM PERSONALISED CHOPPING CHEESE BOARD. LASER ENGRAVED WALL DECORATION. SQUARE CUTTING BOARD WITH HANDLE.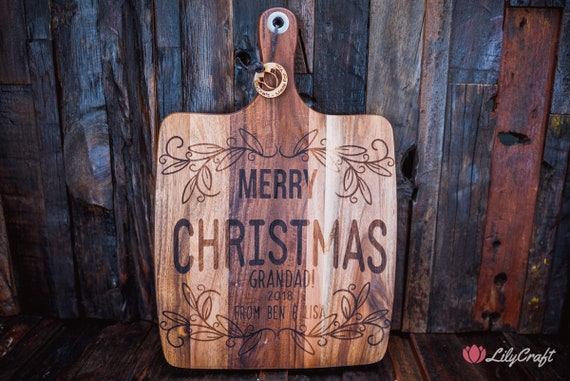 CHEESE BOARD. CUSTOM PERSONALISED CHOPPING CHEESE BOARD. LASER ENGRAVED WALL DECORATION. ROUND CHEESE CUTTING BOARD WITH HANDLE.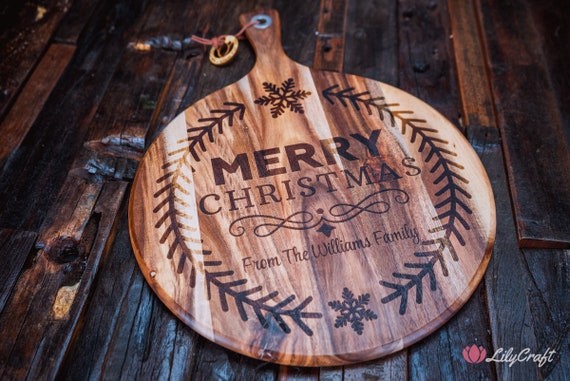 HIP FLASK - MOST BEAUTIFUL ENGRAVED HIP FLASKS. WOODEN WRAPPED HIP FLASK GIFT SET. SILVER ENGRAVING REAL WOOD WRAPPED HIP FLASK GIFT SET.
KEY CHAIN. ENGRAVED WOODEN PERSONALISED LASER ENGRAVED WOODEN KEY RING, COMPANY LOGO KEY CHAIN.

SNACK JAR - LASER ENGRAVED WOODEN LID AIRTIGHT SNACK JAR, TREATS JAR, PERSONALISED MASON JAR, ENGRAVED FOOD CONTAINER, CUSTOM CANDY NUT COOKIE JAR
HAMMER. CUSTOM PERSONALISED LASER ENGRAVED HAMMER. THANK YOU FOR HELPING US BUILD OUR LIVES
BOTTLE OPENER, PERSONALISED WOODEN BEER BOTTLE OPENER. ENGRAVED GROOMS GIFT, FATHERS GIFT.
WINE BOX, PERSONALISED WOODEN WINE BOX, LASER ENGRAVED CUSTOM WINE BOX, CHAMPAGNE BOX, WINE GIFT BOX, SINGLE WINE BOX
ROUND SIGN - PERSONALISED CUSTOM ROUND MR & MRS SURNAME WALL SIGN, CUSTOM LASER CUT SIGNS.


CHALK BOARDS. LASER CUT AND ENGRAVED PERSONALISED CHALK BOARD. CUSTOM MENU BOARDS, KIDS BIRTHDAY PARTY CHALK BOARD
WALL SIGN. BABY NAME NURSERY SIGN. EXTRA LARGE CUSTOM PERSONALISED WALL SIGN
CRYSTAL LED USB STICK DRIVE. CUSTOM ENGRAVED LIGHT UP USB STICK IN GOLD OR ROSE GOLD. 16GB

TOILETRY BAG - GROOMSMEN'S TRAVEL SIZE, PERSONALISED MENS TOILETRY BAG. CANVAS LEATHER TOILETRY BAG.
 We have a wide variety of personalised gifts for sale online. We hope this has given you a few ideas and thanks for reading our blog.