Rare Wood Ring Boxes - Personalized Single Ring Box
Make 4 interest-free payments of with
Add Gift Wrapping to Your Order - (Optional)
Add Gift Wrapping for
$6.00

. Choose your wrapping style ⓘ
Estimated Arrival Time
14 Dec

17 Dec-19 Dec

21 Dec-04 Jan
Nature's Finest: Luxury Handpicked Rare Wood Ring Boxes
Introducing our Luxury Ring Box Collection - The ultimate way to showcase your special ring on your special day. Our premium range of handcrafted ring boxes is unlike any other, as we personally handpick the rarest and most beautiful wood species from around the world to craft each set in Australia.
Our collection includes 400-year-old Macassar Ebony from Indonesia and 300-year-old Rosewood from the Solomon Islands, making these ring boxes truly one-of-a-kind. Quantities are extremely limited, as some of the wood species are difficult to obtain and take hundreds of years to grow.
We have taken great care in designing these ring boxes to showcase the natural beauty of the wood. Hidden hinges and magnets are installed to keep your ring securely in place, lined with soft foam and faux leather. The design also allows for personalization, with no extra cost. You can pick your own fonts from dafont.com and let us know your font and wording for a truly unique touch.
Our premium wooden ring boxes are crafted from a single piece of wood, not jointed pieces like our economy range. This means your box is cut out from a single piece of timber right from the tree, with no glue joints so you get all the beautiful natural patterns in that single piece of wood. None of our woods are stained or colored; it is the actual wood color that you are receiving. We do not seal the wood with lacquers or resins, as this hides the smells and textures of the wood. Instead, we use a mix of natural mineral oils and waxes including beeswax and brazilian palm wax to protect the wood while allowing the natural smells and textures to be experienced.
Our collection includes:
Bocote, a unique orange/yellow wood with finely spaced dark contrasting zebra-like lines collected from Central South America.
Tamboti, handpicked in South Africa, has an incredibly sweet rosy smell.
Rock Maple, a hard, lightly colored wood with beautiful wave patterns collected in the higher cooler regions in North America.
Rosewood, from the Solomon Islands, our 300-year-old lumber is turned into finely crafted wedding ring boxes.
Black Walnut, Black American Walnut has a mix of chocolate and dark brown streaks.
Maple & Walnut, a dual-tone contrasting ring box using American Hard Maple and Black Walnut.
Order now and make your special ring even more special with one of our Luxury Ring Boxes.
This product is rated 4.8 of 5.0 stars.
It has received 4 reviews.
Customer Reviews
11 November 2023
Jakov M.

Australia
A beautiful wooden box with a slight sticky problem…
The ring box is lovely. The finish and quality of the wood used is as beautiful as advertised. The custom engraving on the top came out fantastically and the magnetic latching when opening and closing the box is strong and satisfying. The only issue I experienced is that when I put the ring into the slot and removed it, a sticky residue would be left on the band of the ring. The residue is very noticeable and quite tacky. I believe the residue is from the glue used to hold the foam in place. I have tried to clean the residue out from the slot with moderate success. Apart from this gripe, the box is overall very nice.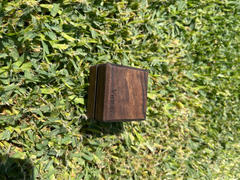 23 September 2023
David R.

Australia
Perfect
Item is just as described and the craftsmanship is beautiful, will make for an unforgettable experience when I propose with it.
20 October 2021
Ricky B.

Australia
Veerrrryyyyy good
Got a ring box and the quality was amazing. Smooth finish, perfect size and sturdy but light build. Customer service was also a solid 17/10. Would definitely recommended to anyone looking for a ring box.
28 December 2020
JAI H.

Australia
Engagement ring box
The box was exactly right. My partner loved it. 5 stars.
🔨 Crafting your Christmas orders! 🎄. We're fully focused on fulfilling your cherished Christmas orders. Please be assured that all incoming orders are receiving around-the-clock attention, even if our replies may seem a bit delayed while we're all heads down in production. 🎅